Instagram – @chrisdcyr
For Booking Info – email chrisdavidcyr@gmail.com
Bio
Chris Cyr is a nationally touring stand-up comedian based out of St. Louis, Missouri. He's a regular feature and headliner at clubs, theaters, and independent shows around the country. Chris has been a contestant on NPR's "Ask Me Another" (he lost) and was an expert commentator in a History Channel documentary (about zombies). He has performed at venues across the United States and Canada, ranging from comedy festivals, to clubs, and theaters.
By combining his love for storytelling with a keen wit and unique writing style, Chris takes audiences on a journey that's sometimes cerebral, sometimes ridiculous, and always ends in laughter. His album, "Adult Child of Child Parents" was recently released on a national label, and is available on Amazon, iTunes, and wherever you listen to comedy.
---
Headshots
Professional Headshots taken by Susan Bennet at Ooh St. Lou Studios in St. Louis, Missouri. Higher or lower resolution photos available upon request.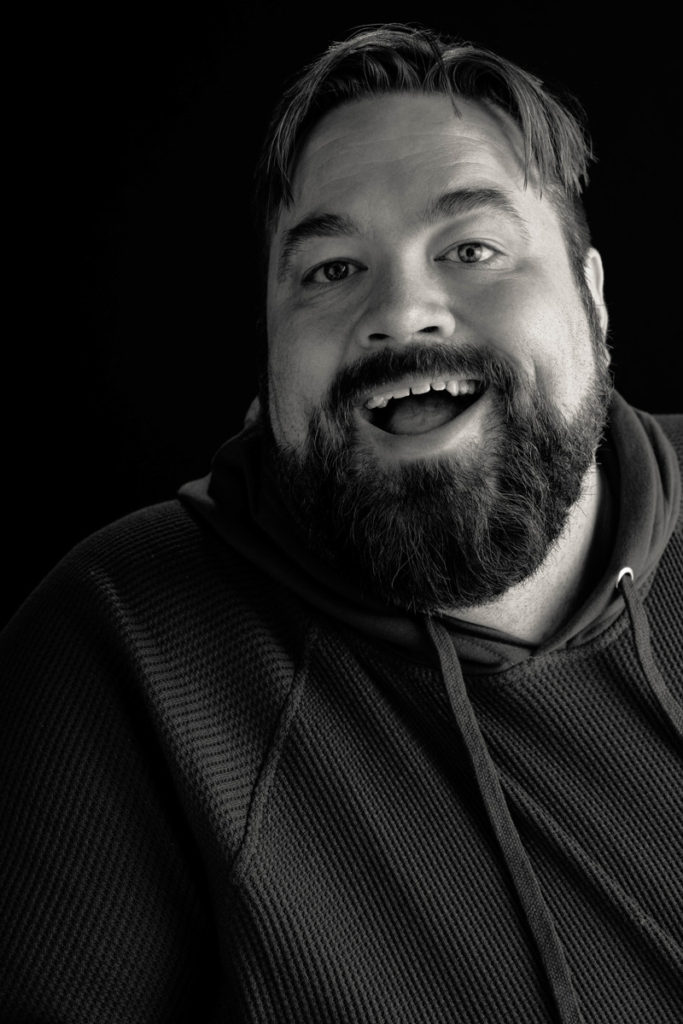 ---
Sample Set
Sample of material that can be found on Chris's album, "Adult Child of Child Parents". Recorded at Helium Comedy, Saint Louis.
---
Press
1/24/2023 – STLToday – St. Louisan, Chris Cyr, Rides Comedy Album Wave With "Adult Child of Child Parents": https://www.stltoday.com/entertainment/music/kevin-johnson/st-louisan-chris-cyr-rides-comedy-album-wave-with-adult-child-of-child-parents/article_e5e50606-8ccb-5d5b-bece-bec9a8c84153.html
8/24/2016 – Riverfront Times – Chris Cyr is a Comedian Trying To Make It In St. Louis, Or At Least Make You Laugh: https://www.riverfronttimes.com/arts/chris-cyr-is-comedian-trying-to-make-it-in-st-louis-or-at-least-make-you-laugh-3091755
---
Radio and Podcast Guest Appearances
National Public Radio
Ask Me Another – Doppelbangers: https://www.npr.org/2019/05/03/719969920/doppel-b-ngers
Take This Pod And Shove It
A podcast dedicated to helping country music overcome the stigma attached to it. Chris appeared on a live recording at Flyover Comedy Festival in St. Louis, MO. This episode features him playing guitar for 30 seconds.
https://podcasts.apple.com/us/podcast/live-in-st-louis-with-matty-ryan-chris-cyr-and-alex-kumin/id1596489499?i=1000586081493
Sorry, Please Continue
Described as cross between The Moth Radio Hour and Mystery Science Theater 3000, Sorry, Please Continue features some amazing stories told by anyone who wants to participate mixed with commentary from Kenny Kinds, Jeremy Hellwig, Amy Milton, and some hilarious guests.
Episode 122 – Dating: https://podcasts.apple.com/us/podcast/122-dating/id973349480?i=1000613902901
Episode 113 – Ending It: https://podcasts.apple.com/us/podcast/113-ending-it/id973349480?i=1000559406948
Episode 90something – Alcohol: https://podcasts.apple.com/us/podcast/alcohol-with-eric-brown/id973349480?i=1000456687003
St. Louis In The Know w/ Ray Hartman – KTRS 550 a.m
12-30-2022 Episode: https://soundcloud.com/550ktrs/itk-finale-with-chris-cyr-12-30-22
7-29-22 Episode: https://soundcloud.com/550ktrs/show-with-no-name-comedian-chris-cyr-7-29-2
7-23-2021 Episode – https://soundcloud.com/550ktrs/itk-ray-chris-cyr-comedian-7-23-22
3-11-2021 Episode: https://soundcloud.com/550ktrs/itk-with-ray-comedian-chris-cyr-3-11-22
We Are Live – St. Louis
Multiple Appearances: https://ivy.fm/podcast/we-are-live-with-travis-terrell-and-chris-denman-146392?tag=chris-cyr